Live Variety Band #883
For weddings, corporate and private parties.
Based in the Twin Cities, Minneapolis, St. Paul Minnesota (MN) USA
651-454-1124 extension 7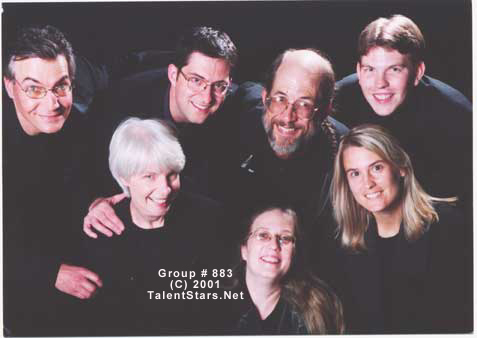 This band plays a variety of music from swing, rock, 50's, pop and more!
Great for weddings, corporate or any type of event!
So you're planning an event, and you want some music. Live music.
You'd like to have a band that can please most everybody
who'll be in attendance, young and old, ties and turtlenecks, heels and flats.
A band that can stay tastefully in the background for conversation, drinks, and dinner.
But also a band that can satisfy the desires of each and every dancer.
We are the band you need!
We are a six-piece horn band with five singers that can play just about every style
of music from the 1940's to the present.

References | Instruments
Song List Swing Version | Song List Pop/Variety Version

Audio Clips
(MP3 format / plays on most computers)

MP3 Audio Demo Clip

Audio Clips of customer comments
Clients rave about this band!
(MP3 format)
Clip One | Two | Three | Four | Five | Six

Audio/Video Clips!
Listen right now!
NEW VIDEO CLIPS!

Real Video Clips
Clip One
(40kb for DSL or Cable modems)
Same as Clip One
but for dial-up or slower connections

Background Music Instruments/Options
(easy listening chamber jazz from the band)
Piano, guitar, and bass
(we leave the noisy drummer at home)


Dance Band Instrumentation
Our usual instrumentation is piano, bass, guitar,
drums, saxophone and trombone, and five of us sing.

We can go out as anything from a duo to a sextet,
utilizing the instruments listed above.

Other instruments - trumpet, violin, even bagpipes -
are available if the client so desires.

We also can provide music for the ceremony itself -
preludes, processionals, songs, and recessionals.

All fees are for four and a half hours of live music (we include the extra half an hour to encourage clients to use us during cocktails and/or dinner) and an hour of recorded music (which can only come before the live music)
This band is a blast!


Band # 883 references

I would recommend them for any type of function that requires promptness, professionalism, and a true understanding of the needs of the purchaser. After twenty-five years in the music business, I think I know what a professional group is. They are one of the most professional groups I have had the pleasure to work with.
---Gregg Schmitt

Wanted to let you know how much everyone enjoyed your music. It really made the reception a wonderful event. We thank you very much for your wonderful contribution to our wedding celebration. You're great! We'll do our best to spread the word! Thanks so much!
---Pam & Gary

Thank you most of all for putting on such a fantastic show for our wedding. It wouldn't have been nearly as beautiful as it was without you. Every person who was there has told us what a great band you were.
---Brad & Terri

Thank you so much for playing the NSP Holiday Party. The band was great and I've been hearing really good comments from employees. I really enjoyed the music and you made everything so easy for me and Tammy.
---Patty

Thank you so much for your role in our wedding and reception. You were great! We've gotten a ton of remarks about how great the music was - both during the wedding and at the reception. You were perfect! Plus, you really made the music part of the whole gig easy. We're truly grateful. Thanks especially for the ceremony music and for the sweet ways you acknowledged Allison (and even the rain). You played a big part in making our day meaningful.---Sally, Rob, & Allison

Many more references available upon request. Call 651-454-1124 extension 7

Thank you.


Band Members

Diane............saxophones/vocals
Mike.....................trombone/vocals
Rebekka.......................piano/vocals
John.................................guitar/vocals
Mark...................................bass/vocals
Bruce..................................................drums
For bookings:
Call All Time Favorites
651-454-1124 extension 7
800-232-6874

First Dance Song Suggestions
Thinking about the perfect song for your first dance?
Here are some suggestions from our repertoire:

Grow Old With Me

"Grow old along with me,
the best is yet to be..."

A hit by Mary Chapin-Carpenter,
this was one of the last songs
written by John Lennon
o
I Love You

"I love you, you love me
I love you, so let's make a family tree..."

An easy swing song of affection
from the first album by
The Barenaked Ladies
o
Stand By Me

"No I won't shed a tear
just as long as you stand by me..."

Another gem from the '50's,
immortalized by the great
soul legend Ben E. King
o
Unforgettable

"Like a song of love that clings to me,
how the thought of you does things to me..."

Nat King Cole - and Natalie too!
A romantic ballad of true love
and lifelong commitment I Could Not Ask For More

"These are the moments
I'll remember all my life..."

The Edwin McCain smash,
as featured in the movie
"Message In A Bottle"
o
Unchained Melody

"I need your love, I need your love,
God speed your love to me..."

The Righteous Brothers classic,
one of the most popular
slow songs of all time
o
The Way You Look Tonight

"I will feel a glow just thinking of you
and the way you look tonight..."

From composer Jerome Kern
a perfect newlywed song ,
celebrating the magic of the moment
o
Our Love Is Here To Stay

"But oh my dear, our love is here to stay,
together we're going a long, long way..."

Finally, from the Brothers Gershwin,
a beautiful expression of the
longevity of your love

651-454-1124 extension 7