Variety Band # 798
Variety Band Entertainment
For Weddings, Corporate and Private Events
Call All Time Favorites at (651) 454-1124 extension 7

AMAZINGLY AFFORDABLE AND VERY HIGH QUALITY MUSICIANS!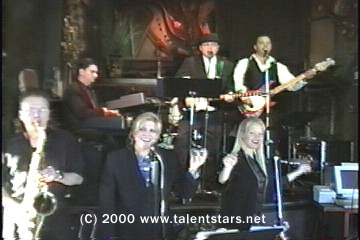 We are a fun band, classy and we play a variety of music
to fit the current mood of the crowd.

Audio/Video Clips | Availability/Current Calendar
Biography | Meet the Band Members
Partial Client Listing | Client Comments | Newspaper Reviews
Songlist!

Page One
Two
Three
Four
Five
Six
Seven
Eight
Nine

Ballads & Standards
Big Band / Swing Standards
50-60's / Motown / R & B
70's-80's-90's
Latin / Country / Jewish / Traditionals
Many Styles!

More Band Photos Click Here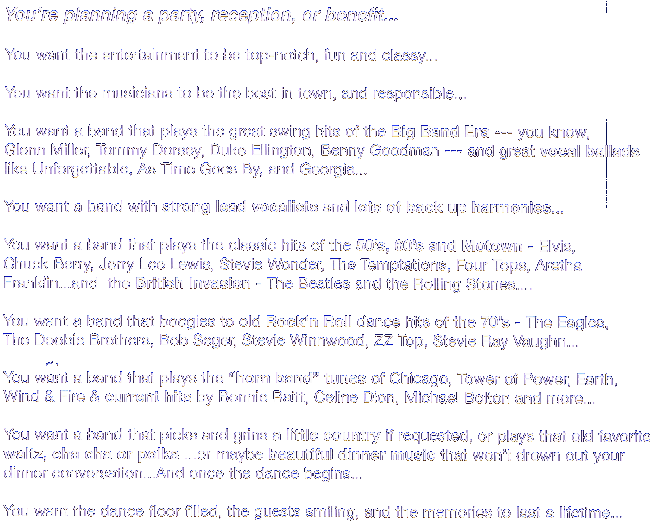 Audio/Video Clips!
We would be happy to send you audio or video demos in the regular mail
if below does not work. (Audio/video is still new on the internet)

MP3 Audio Clip

Real Audio CLIPS below REQUIRE the FREE audio player
You can get the player FREE, HERE
Technical help is FREE 800-232-6874 press "0"
For bookings call All Time Favorites (651) 454-1124 extension 7
All Time Favorites Event Planning Resources Home Page
Updated 06/06/03 09:26 AM (updated only as information changes)