The Rockin' Hollywoods
The Rockin' Hollywoods present "Solid Gold Rock N' Roll" from the 1950's and 1960's era
with an energy and excitement that captivates audiences of all ages.
For bookings call All Time Favorites at 651-454-1124 extension 7 for Brian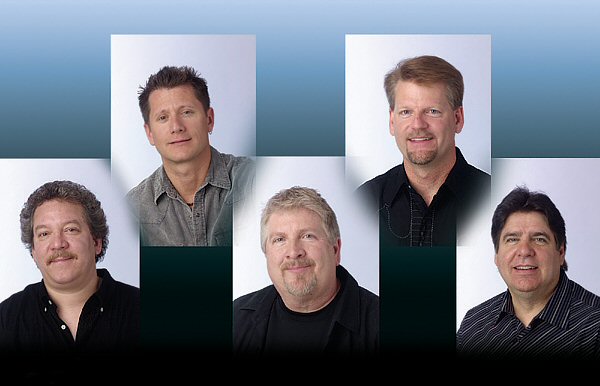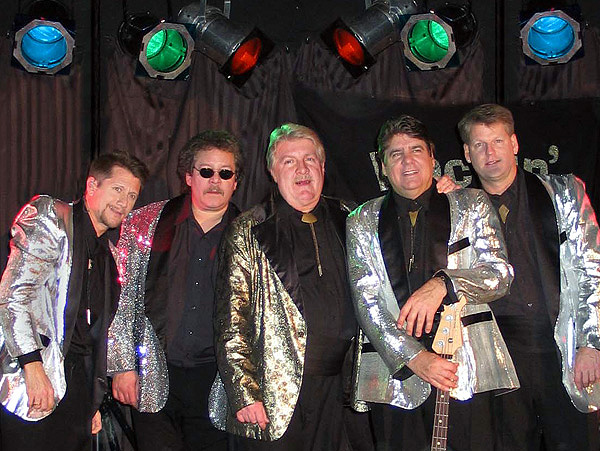 Formed in 1973, the band utilizes period costuming, very physical choreography and staging, with great vocals and musicianship, gaining them critical and popular praise.
The Rockin' Hollywoods were voted "Best Performing Artist" for 1987 in the Minnesota Music Awards. The Minnesota Ballroom Operators Association voted them "Band of the Year" for 1986 and 1989. The band has been nominated virtually every year since 1976 by the MBOA, and nominated in 1986 and 1988 by the prestigious Minnesota Music Awards Academy.
The Rockin' Hollywoods have drawn praise from the Beach Boys, whom they opened for in 1990 and 1985, and have worked with other greats such as Rick Nelson, Bo Diddley, Del Shannon, Gary Puckett, Four Tops, Neil Sedaka and many others.
Their second album "Greaseland" was released in June of 1988. Produced by veteran songwriter and musician, James Walsh of the "Gypsy Band", the LP is a great collection of well known and a few obscure songs as well. A third album, released in 1990, "Danceland" is also available.
SONG LIST
BEST OF THE 50s

ALL I HAVE TO DO IS DREAM
AT THE HOP
BLACK SLACKS
CALENDAR GIRL
COME GO WITH ME
DON'T BE CRUEL
GREAT BALLS 0F FIRE
IF YOU WANNA BE HAPPY
JAIL HOUSE ROCK
LITTLE DARLIN'
LION SLEEPS TONITE
OH BOY
PRETTY WOMAN
RAVE ON
ROCK AROUND THE CLOCK
ROCKIN' ROBIN
RUNAROUND SUE
SHOUT SHOUT
THAT'LL BE THE DAY
TOSS1N' & TURNIN"
TWISTIN' THE NIGHT AWAY
WAKE UP LITTLE SUSIE
WONDERFUL WORLD

BEST OF THE 60s

SHAMA LAMA DING DONG
BARBABA ANN
BEACH BOYS MEDLEY
CAN'T HELP FALLING IN LOVE
DO WA DIDDY
FEEL A WHOLE LOT BETTER
GLORIA
GOOD LOVIN'
HAND ON SLOOPY
HIGHER AND HIGHER
I KNEW THE BRIDE
I SAW HER STANDING THERE
LAND OF 1000 DANCES
MITCH RYDER MEDLEY
MONEY
MUSTANG SALLY
MY GIRL
SURFIN' USA
TOMMY JAMES MEDLEY
UNDER THE BOARDWALK
WOLLY BULLY
YOU'VE LOST THAT LOVIN FEELING


BEST OF THE 70s AND 80s

JESSIE' GIRL
PLAY THAT FUNKY MUSIC
BRICK HOUSE
SWEET CAROLINE
SUSPICIOUS MINDS BORN TO BE WILD
BROWN EYED GIRL
HOUSE IS ROCKIN'
KEEP YOUR HANDS TO YOURSELF
OLD TIME ROCKIN & ROLL
PINK CADILLAC
TAKIN' CARE OF BUSINESS
WHAT I LIKE ABOUT YOU
WILD NIGHT
YMCA
BABY LIKES TO ROCK tT
AUTHORITY SONG
DAYO
MARGARITAVILLE
FOOTLOOSE
JUMP JIVE & WAIL-
DRIFT AWAY
UNCHAINED MELODY
WONDERFUL TONITE
For bookings call 800-232-6874 ext 7 for Brian / All Time Favorites

More bands CLICK HERE