The Castaways
The Castaways variety band in Minnesota plays for weddings and events.
Book the Castaways dance band - live band for your MN event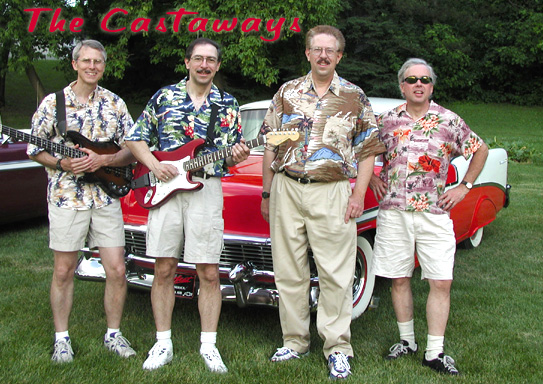 Reference Letters | Partial Song List Part One Part Two
A National Group! with the hit record "Liar Liar"
Real Audio Clips One Two Three Four Five Six Seven Eight Nine

They are really fun with the crowd for adults and kids (famous hula hoop contest)!
MP3 Audio Clip

4 pc or 5pc with SAX!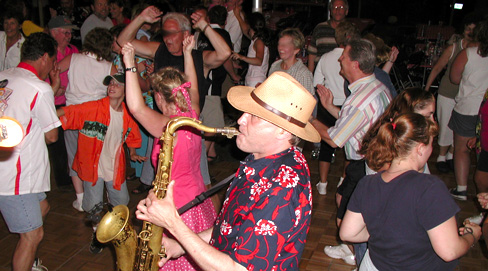 They make it FUN!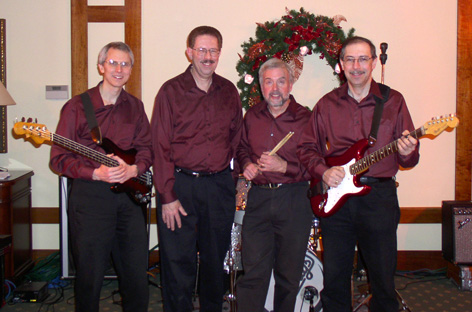 Great for Formal Events where you want fun but keep it classy!
The CASTAWAYS are a nationally-known Minnesota based rockíníroll band that audiences have been demanding, and enjoying, for over 35 years. From community concerts and dance party events to the intimate settings of the country club or wedding reception The Castaways showcase their unique vocal and instrumental talents for an exciting sight and sound experience.

The Castaways are comprised of four talented musicians. Jim Donna, keyboards and vocals, was one of the original founders of the band in the early 1960ís. In 1965, the group recorded Jimís composition ďLIAR, LIARĒ, a million seller that vaulted The Castaways into the nationís top ten! In later years, Bob Donna, guitar and vocals, joined the band along with Rick Snider on drums and vocals and Ralph Hintz, bass and vocals.

The Castaways feature a lively dance beat and tightly knit, quality sound, from the high energy of Bruce Springsteen to the soulful ballads of the Righteous Brothers. The Castaways fill the dance floor from the first note and keep the crowd dancing through every set of the evening! Their fast-paced and versatile song selections range from pop and album artists, classic rock, mood-setting ballads and the best of 50ís and 60ís favorites. For special occasions, The Castaways have the dynamic ability to play variety tunes beyond the rock spectrum, and add instrumental flavor with saxophone, flute or other specialties.
SOME RECENT APPEARANCES OF THE CASTAWAYS:

MILL CITY MUSIC FESTIVAL
LIVE APPEARANCE ON TV- CHANNEL 2 ALMANAC
STOCKYARD DAYS IN NEW BRIGHTON
EARL BROWN DAYS IN BROOKLYN CENTER
HEIMATFEST IN JORDAN
DAN PATCH DAYS IN SAVAGE
HOPKINS MUSIC IN THE PARK (RASPBERRY FESTIVAL)
MEDINA BALLROOM
TOURNAMENT PLAYERS CLUB
LAFAYETTE COUNTRY CLUB
T.G.I.S. SINGLES DANCES
IMMACULATE CONCEPTION CHURCH FESTIVAL
SCOTT COUNTY FAIR
LOCAL 340, GAS WORKERS UNION (MINNEGASCO) @ THUNDERBIRD
MINNEGASCO CORPORATE PARTY @ ANOKA COUNTY FAIRGROUNDS
NUMEROUS WEDDINGS, CORPORATE EVENTS, AND CLASS REUNIONS.
THE CASTAWAYS HAVE PERFORMED OVER 3,000 SUCCESSFUL JOBS!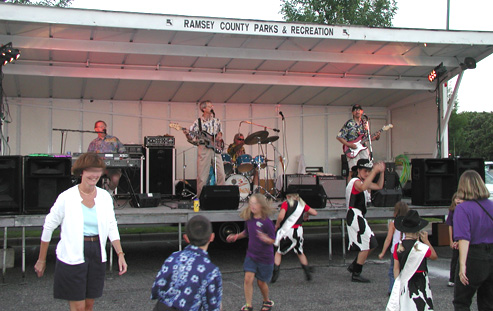 Outdoor festivals and events are a lot of fun for ALL AGES!
The Castaways are the perfect band for any occasion where the accent is on good fun, great music and dancing the night away! The group is looking forward to playing for you soon.
Call 651-454-1124 extension 7 or 800-232-6874x7 (outside the Twin Cities MN metro)
Please NO fan mail to the above contacts.

For booking this group call All Time Favorites (651) 454-1124 extension 7

All Time Favorites Event Planning Resources Home Page
for all your event needs!
For more live bands and variety bands click here